U.N. expert, Paul Dingwall's review of Langshan Mountain
I was pleased to see on the video you presented that attention was given to all the natural values of langshan—the scenery, the geology and the plant life.
I suggest that greater emphasis is given to geology and vegetation in the visitor education programmer at langshan. At present greater emphasis is given to scenery, which although it is magnificent is only one of several natural values in langshan.
When nominating a property for world heritage you can do so under four world heritage criteria:Scenery,geology,biodiversity,ecosystem and habitats.
To attain world heritage status it must be demonstrated that in at least one of these criteria langshan has outstanding universial value, This means that for the particular value mentioned that langshan is the best of its kind in the world.
This presents a very great challenge and requires that very good scientific information and evidence is provided to justify the claim to OUV. The best way of doing this is to undertake a comprehensive comparative analysis that shows the values of langshan in relation to all other similar places in the world, including those already on the world heritage list.
The principal objective of the comparative analysis is to confirm that langshan is the most important protected area in the world for presenting scenic, geological and biological story of china's Danxia landforms.
In addition to meeting the scientific standards of world heritage, it is necessary to meet the standards of protection and management also. World heritage properties set am example to the world for the best management of protected areas.
Management standards are measured by the quality of the protection legislation, the policies and objectives for management, and the plans of action to ensure long-term protection of the property.
I am pleased to note some actions already taken at langshan, such as the removal of some unrequired buildings, the restoration of damaged areas, the reforestation of cleaved areas. Also important is the prohibition of developments that have adverse unpack on nature, such as mining, hunting and timber extraction.
Above all, there is a need to prepare a very comprehensive management plan for langshan. This plan should be consulted with the local community and all stakeholders to ensure that all people with support the government and managers to protect the langshan scenic area in the long-term future.
Report by Paul Dingwall (IUCN) on the Langshan Scenic Area nomination for World Heritage of Danxia landform, mountain Emei, Sichun, November .5th, 2007
Langshan scenic area was first established in 1991, and was given the status of National Geopark in 2002. There is an intention to apply for status as a UNESCO International Geopark. Langshan is 188km in area comprising a core area of 108km and a buffer area of 80km It is one of the largest of the seven areas nominated in the serial World Heritage project. The langshan scenic area has a great diversity of Danxia landforms ranging from young landscapes to mature one and old landscapes. Young landscapes have a great density of tower landforms while old landscapes have more isolated towers standing about the lower altitude surrounding landscape. Younger landscapes are higher rising to 800m altitude and older landscapes are lower at about 450m altitude.
The landforms are classic iconic Danxia landforms displanning high sheer-walled towers, pillars and dome-shaped mountains, separated by steep gorges that follow the joints in the rock structure. The resulting scenery is quite spectacular and of great interest and inspiration to people . the shapes of the landforms are often evocative of living things and there are many myths, legends and stories associated with the landforms. Langshan would therefore be able to make a strong claim to meeting the standards for World Heritage under criterion(7). The geological story is not as strongly told in the park education program and needs to be given more emphasis. At present too much emphasis on signs, interpretation panels, booklets, and other books and photographs is given to scenery. There is even less emphasis on the biodiversity of the scenic area. There are many important elements in the vegetation and plant life, including rare and endemic species, some of which have been isolated in region in the much dissected landscape. More work is needed to survey document and provide information to visitors about the biology of langshan scenic area.
The protection and management of langshan appears to be very strong. There are strict laws for protecting nature and many regulations such as prohibition of impacts from mining hunting timber cutting and illegal collection of rare plants. There has been considerable effort to restore damaged areas to replant cleared areas of forest and to removed unnecessary buildings.
There are 20000 residents in the langshan park. 1000 of whom are in the core zone. These are small family farmers who have little impact on the natural environment. The local community is also strongly in support of the protection of langshan, and they participate as volunteer staff.
Currently 300000 tourist visit langshan each year and visitor number are increasing at a rate of 8% per year. There appears to be no problem in managing this level of visitor use with the existing facilities. Consideration should be given, however to improving the quality and number of trails, the toilet facilities and education resources and programmers . for example, many of the signs and panels are inappropriate sited, the English language translations require improvement, the story told is repetitive and focused on scenery and there are insufficient documented resources such as maps, pamphlets and books. There is also a need for a good museum to display the scenery, regeology and biology of langshan for visitors.
Above all, there is a need to prepare a comprehensive management plan for long-term management and protection of langshan, which will guide the actions to be taken in the future.
Finally, I can observe that both from a scientific and from a management viewpoint, langshan can make a strong contribution to the serial natural world heritage nomination of Danxia landforms in China.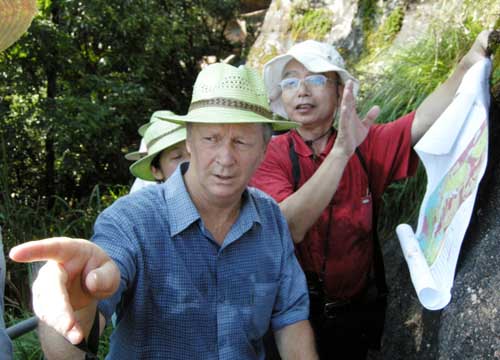 Admin




Posts

: 951


Join date

: 2010-08-01




---
Permissions in this forum:
You
cannot
reply to topics in this forum